Want to Market Your Business Using Social Networking Sites?
Whether you have an existing business or have no clue what to do to make money online, this course will help you.
Work from home or the beach or anywhere you want.
No more getting up in the morning and driving all the way to work only to feel trapped every single day!!
Work when you want and make money.
Finally have the time and financial freedom to do the things you've always wanted to do.
I can show you how to use social networking sites like facebook and twitter to make money on the internet.
Making money from the comfort of home is easy IF you know how to do it properly. There are a lot of people out there who will claim they can show you how to do it, but, in reality, there are very few who really can. Most of them will show you how you can pay THEM on a monthly basis for ongoing information. This only makes THEM money, not you.
Spend 6 Weeks With Me
One weekly 60 to 90 minute webinar (telephone and internet required) for 6 weeks.
At the end of 6 weeks, you will be well on your way to making money from home. No hype, no ongoing commitment beyond the 6 weeks. Implement what I teach you and you WILL have success.
Do You Know Anyone With a College Degree & No Job?
I know so many people who spent tens of thousands of dollars to go to college who are now jobless or working at a minimum wage job just to keep their heads barely above water. Don't get me wrong...college is not all bad. But...many college graduates are finding that the job market is not what they had hoped. They are graduating and finding no available jobs.
Internet Entrepreneurs Are Taking Over
That is the bottom line. The internet is growing at an amazingly fast pace. Think back 20 years. Or even 10 years. Did you know that facebook didn't even exist 10 years ago? Now the majority of households in America are on facebook. Companies are joining facebook. If a company doesn't have a social media presence, they are not going to be in business long. Even television shows now have a social media presence. Their longevity on the TV is gauged by social media interaction.
The Future Has Arrived
With so many jobs moving online, the internet is the wave of the future. It is becoming an information age. Will you join the future or stay stuck in a job that may not be here in a year or two or ten?
SPECIAL LOW INVESTMENT

ONLY

$147
SAVE $100
I Will Show You Everything You Need to Know
Whether you have an existing business or have no clue what to do to make money online, this course will help you. You are most likely online anyway if you are reading this. How much time do you spend "surfing the web" or playing games or chatting with friends? Why not make money while you are at it?
Invest in Your Future Today!
Classes begin June 20, 2012. (It's NOT TOO LATE...Sign up, listen to the recorded classes so far and catch up) All classes WILL be recorded, but will NOT be available for sale later. You must invest in the course to get the recordings. No discounts for recordings only. It is always best to try to be present during the class to ask questions and get personalized help. See the course agenda here.

My guarantee to you - Implement what I teach you in this course and you will be making money within 3 months of the end of the course. If not, I will refund your money.

Class Size is Limited So Sign Up Today
SPECIAL LOW INVESTMENT

ONLY

$147
SAVE $100
=============================================

Special 3 Pay Option
Just $87/mo for 3 months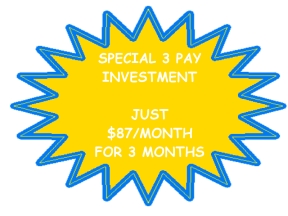 =============================================
If you have any questions, contact Roxanne Green - roxanne@roxannegreen.com

All rights reserved. Do not copy any portion of this page without written permission from Roxanne Green.