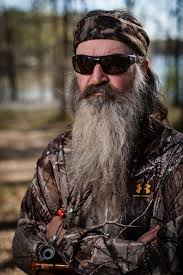 Here are my thoughts on the whole Phil Robertson interview thing.
OH…MY…GOSH!!!
An actor has an opinion.  WOW…who woulda thunk it?
A&E is all up in arms over his statements.  But…doesn't he have a right to make them?  We don't have to agree with the statements.  We don't have to even watch Duck Dynasty if that's what we decide.
Let Phil stay on the show.  Let the public decide if they want to watch or not.  But…when networks start censoring what actors can and can not say, they end up being the "bad guy".
All they needed to do is put a disclaimer at the beginning of Duck Dynasty saying "The views of this show or it's actors are not necessarily the views of A&E".  Done…  no big fuss.
It's been said there is no such thing as bad press.  I have to disagree in this case.  I think this is a huge negative on A&E.  Probably a good thing for Duck Dynasty and Phil Robertson, though.
Now…with that said…
I am a Christian and I don't agree with Phil.
OUCH…WAIT…don't throw the rotten tomatoes yet!!
As Christians, we are to strive to be "Christ like".  I honestly don't believe that Jesus would spew hatred toward ANYONE.  I have many friends who are GLBT and I couldn't imagine being hateful toward any of them based on their sexual or lifestyle preference.  That's crazy.
Now…let's say that I believe being gay is a sin.  The Bible tells us not to judge.  It also says that there are no "degrees" of sin.  There is no sin better or worse than another.  It also says "We have ALL sinned and fallen short of the glory of God".  Not some of us.  Not most of us.  ALL of us.  So…if there is no degree of sin, and we are not supposed to judge, why should a Christian spew hatred toward anyone for their lifestyle?  Or anything else for that matter.
Let's band together as Christians and show "sinners" (again…EVERYONE including us) that we are not the hypocritical, judgmental, horse's ass that many Christians are being on this matter.
Feel free to comment below, however, know that if you can't disagree without attacking me or other commenters, your comments won't make it through moderation.  I love a good debate, but not one where anyone is mean, hateful and attacks others.  This is NOT a "free speech" community, it's MY blog.  😉