Many times when building a business, we get stuck in a rut.  We keep doing the things that our upline or the trainers we listen to tell us work.  But…it's just not working.  People aren't buying.  They aren't signing up.
It's a viscous cycle that so many entrepreneurs are stuck in.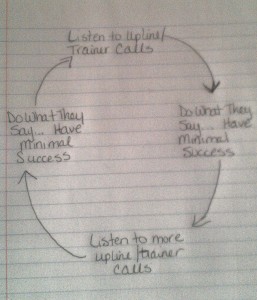 Listen to upline or trainer calls  ==> Do What They Say & Have Minimal Success ==> Listen to more upline or trainer calls ==> Repeat
Are you stuck in a cycle like this?
When we get stuck in life, it's important to interrupt the pattern.  Break out of it.  Break free.
Go back to basics.
What do I mean by that?
Sometimes we just need to wipe the slate clean.  Forget about everything we've learned so far and go back to the basics.  Many times, we THINK we are implementing what we learned, but in reality, we've put our own twists and spins on it over time.  I can't tell you how many times someone has come to me after going through one of my trainings and said "I'm doing everything you said and it's not working"  I go to their social space profiles and they are doing one or two things I said, but everything else is going totally against what I teach.
You can't do it half assed.
If what you are doing isn't working…go back to basics and start over.   When someone takes my training I tell them to forget everything they have learned so far and everything they have been doing.  Once we have a clean slate, we can move forward properly.
Are you ready to go back to basics?