Today seems to be "MLM SPAM day" on social spaces.  I did a couple screen shots to share my "favorite" SPAM with you.  These showed up in my newsfeed today among MANY others.

HHMMM…you thought the ENTIRE GROUP would be perfect for the 2 – 5 people you supposedly could invite??  Interesting…

EVERYBODY gets paid and NO ONE is left out?  WOW…sounds like one of "those things" that will attract the people who want to sign up, do nothing and get paid.  ( I know for a fact that the person who posted this one is having NO success because they contacted me saying "social space marketing doesn't work".  It doesn't work for THEM because they are doing it wrong.)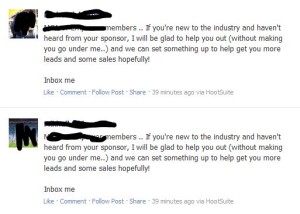 The same status was posted by two DIFFERENT people at the exact same time via HootSuite.  These people never even visit the group so they have no idea that their scripted SPAM is found out.  One of these two is also wondering why they are struggling so hard to build their business using social spaces.
And…the honorable mention goes to this next one!  This one goes one better than sign up, do nothing and get paid.  They are going to PAY YOU and you never have to spend a dime!!  Let me ask you…if no one ever spends a dime…WHERE DOES THE MONEY COME FROM????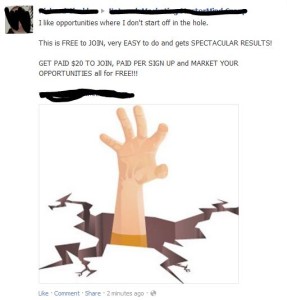 This is only a very small fraction of the spammy status updates that came through my newsfeed today.  Are you marketing like this?
STOP RIGHT NOW!!  Go listen to my Social Space Marketing Call or sign up for my upcoming Social Space Marketing 4 Week Course.   Learn how to market your business without being a spammer.