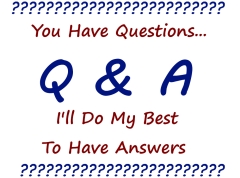 The following two questions and answers are compilations of questions I received from many of you.  These are the two most popular questions I've received so I've decided to answer both of them today. 
Q: I've looked at your courses on the left side of your blog and I don't see anywhere that you teach "Overcoming Objections".  Why is that? 
A: I teach attraction marketing.  Therefore, you will never have to overcome objections because you will not get objections.  Those who want what you are offering will come to you.  You don't have to go out and "pitch" anyone.
====================================
Q: How long does it take the average network marketer to begin making a profit?
A: You are not going to like my answer on this one.
The average network marketer sponsors 2.5 people.  A very high percentage sponsor no one.  Therefore, the average person in MLM will not make any money.
It's very easy to get discouraged when so many people are teaching ineffective marketing methods.  They teach their people what they were taught and so on.  This is what leads to very high attrition rates in our industry.
This is why it's so very important to learn the right way to market your business.