I recently joined Empower Network after over 2 months of EXTENSIVE research on them. I had to weed through all of the trash and BS all over the internet to find the truth. Yesterday one of my facebook friends posted a link in response to a blog post I did about Empower. I am not going to give that blog backlinks, so I won't link to it here, but I did screen shot part of that post and would like to address every point of it here. The reason I'm doing this on this blog and only linking to it on my Empower Network blog and not the other way around is because this blog is well established and posts from it get indexed in the search engines within minutes. I just began my EN blog a few days ago and it's not yet indexed as well as this blog.
So…here goes. Here's the screen shot, then I'll address each point: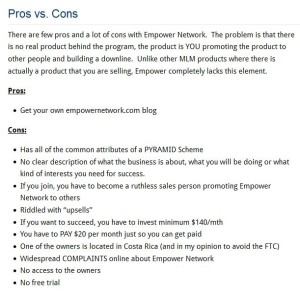 Let's look at this one point at a time because, UNFORTUNATELY, anyone can say anything on the internet and there are gullible people who think if it's on the internet, it must be true and they do no research.
Has all of the common attributes of a PYRAMID Scheme
This one is very interesting to me.  (BTW…CAPITALIZING a word emphasizes it but does not make it true.)  Let's look at the definition of a pyramid scheme – This screen shot was taken from the FTC  (Federal Trade Commission) website:

I only earn a commission with Empower when I sell a product (a retail sale).  We will cover Empower Network's PRODUCTS (see…I can use capitals too) in another bullet.  😉  the people I sell these products to do not have to become affiliates of Empower Network in order for me to make money.  If they WANT to, they certainly can, but they are not required to be affiliates.  They are, however, required to pay a monthly fee for maintaining and hosting the blog (just like any other company that sets up and hosts a blog for you).  There is no inventory loading because you can not buy more than one of each of Empower's products (except the monthly blog fees and monthly training).
No clear description of what the business is about, what you will be doing or what kind of interests you need for success.
I'm not sure where they got this one.  On my PUBLIC (See…I did it again 😉 ) Empower affiliate blog (different from my personal Empower blog) there is a TON of info available to the public.  You just have to take some initiative and go through the posts.   😉
If you join, you have to become a ruthless sales person promoting Empower Network to others
This is a huge fallacy.  Many people DO promote EN and…just like in any other opportunity…there are always some who are over zealous and go out there screaming and hollering all over the internet.  EN actually encourages you to use their SYSTEM to promote YOUR opportunity and/or products.  They encourage you to NOT go screaming like a lunatic all over the place and simply use your blog to educate and entertain your readers based on what YOU are blogging about…whether that be EN or something else.
Interesting…there are way less products than most affiliate or multi level opportunities.  Yes…these are products!  I've been making and selling courses for years.  Online universities sell courses.  Most of what I've learned and teach and what David Wood and David Sharpe teach is a culmination of our years of "failing forward".  Instead of purchasing our knowledge, people are certainly welcome to spend years to learn it themselves.  No one is forced to purchase anything.  Every business needs to sell products and/or services in order to sustain itself.  Can you imagine McDonalds not asking "Do you want fries with that?".  That is an UPSELL.  I get affiliate commissions when I sell HostGator products like hosting (see…that's my AFFILIATE link) AND any upsells.  You can't physically see or touch that product.  OMG…must be HostGator is a SCAM!!  Well…according to some anyway.
If you want to succeed, you have to invest minimum $140/mth
You have to PAY $20 per month just so you can get paid
I've been in MLM companies where you had to invest a minimum of over $200 up to $500 per month if you want to get paid.  So…??  The monthly amount is to help cover the cost of Empower hosting and maintaining your affiliate pages, back office, etc…  Again…I've been in MLM companies where you have to pay up to $50 per month for the company replicated websites. SO…??
One of the owners is located in Costa Rica (and in my opinion to avoid the FTC)
That is YOUR opinion and you are entitled to it.  MY opinion is that Costa Rica looks like a beautiful place and I just might move there some day myself.  Fortunately, people are able to do business all over the world with the internet connecting everyone.  PLUS…if they are "avoiding" the FTC, why would they put income disclaimers everywhere in writing and in video.
Widespread COMPLAINTS online about Empower Network
There are complaints about almost every company out there…even eBay and PayPal and Amazon and facebook, etc…  You can never please everyone.  Most of these "complaints" are from people who signed up, thought they could do nothing and expected to get paid.  That is NOT the way this works.  They obviously did not read what they signed or watch the videos that they agreed they watched.  Otherwise they would know that this is a BUSINESS and takes real effort to build.
They are at every event just like any company owner.  Not sure how much more "access" you want…
AAHHHGGGG…you got me on that one.  Darn!!  I have to give you that one.