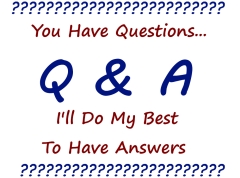 Here is the next awesome question I received. Keep them coming.
Roxanne,
You said in a previous answer that the average network marketer sponsors 2.5 people and it's because many sponsor no one. Why is that? Why is there so many people who sign up and do nothing?
Discouraged in NJ
Hi Discouraged,
Great question. In this industry, the only way for it to work for the company and the big income earners is if there are a large number who do nothing but buy products each month. Many companies are not set up to be "customer friendly" so people have to join to get the "good prices".
The majority of people who do bring others in don't really know how they got those people to sign up. Then, they, as the upline, attempt to teach their people how to sponsor others. However, most times, they are teaching ineffective marketing methods. Occasionally, those ineffective methods work to bring in one or two people so those one or two get taught the same ineffective marketing methods and so forth. This is why most just give up and keep buying the products. Most MLM companies have great products.
However, if people are taught how to attract people the right way, that average would be much higher.
================================
Don't forget to get signed up for the Pinterest marketing class at http://roxannegreen.com/pinterestmarketingclass
Have an Awesome Day,
Roxanne Green