Tuesday, March 20th, 2012 at 11:11 pm
I bought a large amount of Girl Scout cookies from a friend's daughter.  One I really looked forward to was the new Savannah Smiles Lemon Crunch Cookie.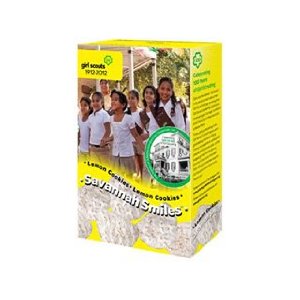 After a long day of running around to doctor's appointments and grocery stores, I sat down to relax in front of the TV with a box of these cookies.  I opened them and after the first bite thought "What?  There is no lemon taste."  I figured maybe the next one would taste more lemony.  It did not.
I am severely disappointed in the Savannah Smiles Girl Scout Cookies.  If you like a VERY LIGHT lemon flavor, these are great cookies.  They can either be crunchy or "melt in your mouth".  BUT…if you are looking for a LEMON flavored cookie, these really are not what they are advertised as.  Still good.  Don't get me wrong, just not lemon.