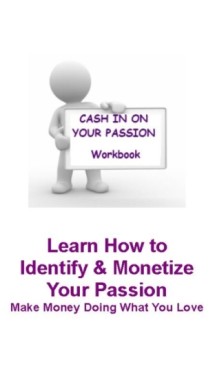 Do you ever wish you could do what you love and have fun doing AND make money at the same time?  Make money from home while doing what you are passionate about.
What if I told you that's entirely possible?  I've taught many people how to make money and have FUN doing it!  It doesn't matter if you love to lay on the couch and watch TV all day or dress up your dog in cutesy doggy outfits.  I can show you how to monetize ANYTHING.
On Monday, November 18, 2013, at 9 pm EST, I will be doing a FREE teleseminar based on my best popular free eBook "Cash In On Your Passion".
I will be taking volunteers to do live coaching with during the teleseminar.
Jump into the "hot seat" with me.  Get coached live for FREE!  I will help two lucky volunteers walk through the process of finding their passion (that thing you LOVE to do and have FUN doing) and then helping them get set up monetizing that passion!
This will be an epic teleseminar.  Past participants have paid up to $500 for this type of laser focused coaching.
Sign up below.  Be sure to choose whether you want to be entered in a drawing for FREE coaching or whether you just want to be a "fly on the wall" and listen in.  Come join us! (YES, this will be recorded for those who are unable to make it live.)