I was talking with a friend the other day and I couldn't believe the conversation. She had seen my posts on facebook and on my blog about making money from home and wanted to know more. I explained to her that she has a lot of great things to talk about when we talk, so she could write those things in a blog and share her posts with others and begin making money. We will teach her everything she needs to know once she gets started.
She asked "How much money can I make?"
I answered "As much as you want. It's entirely dependent on how much you put into it. This is a business. It requires real effort to earn real money."
She said "I don't know. If I make more than a couple hundred a week I will lose my food stamps. Do you know if I will be making that?"
I said "You know…on second thought…this probably is NOT for you"
I was flabbergasted!! Lose food stamps??? HELLO??? What is wrong with society these days? This person is afraid to make money because she will lose the handout she's getting?? Don't get me wrong… food stamps are there to help people when they are down. But…they are NOT meant to be a lifestyle. That is possibly the most ludicrous statement I've ever heard in my entire life!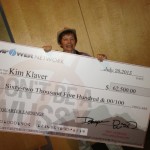 Where is your money mindset?
Are you stuck in poverty mode?
When you hear of the big income earners, what is your reaction? Do you think "I could never do that" or "That must be a lie" or something like that?
Or do you think "YES…now I know what is possible in this company!!"
Your mindset will determine where you go from here.
This photo shows my good friend Kim Klaver holding a check representing her $62,500 2nd quarter earnings for 2013 from Empower Network.  Your results may vary.  Results are dependent on effort, mindset, and many other factors.  See income disclosure here.