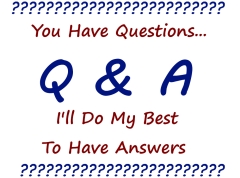 This email came in overnight from a reader and I felt strongly that it needed to be answered here ASAP!
Hi Roxanne,

I found you on facebook and love your Q&A series on your blog.  Here is my question.   If you do decide to answer it on your blog, please just call me "NOT making money with facebook".

I just found out today that my job is ending in a month and I need to know how to be making money with my business before then.  I'm scared!  Before now, I've been trying to work my MLM business but it's just not going anywhere.  I feel like I've been wasting a lot of time on facebook.  I take all of these classes and they say to go to groups where other networkers are and post 1 – 3 times a day.  I do that and get no response.  I'm posting about all of the great things about our company.  The excellent pay plan, how they can get started for under $500, how they can fire their boss and things like I see other people posting.  I don't get anyone to "bite".  I've sent some emails to people introducing myself and my business just like I was told by one trainer.  That got me a warning from facebook.  Someone reported me for spamming them.  I wasn't spamming, I was introducing myself and my business.

It just seems that there are so many rules to what you can and can't do on facebook.  And everyone is doing the same thing so how do I know what will make money?     I've spent a lot of money on training and I feel that I've been implementing everything I was taught to do.  Why isn't it working and what is the best way to make money going forward?

Thank you for your help.
Well, hello, NOT…   I am glad you found me!  I'm sorry to hear about your job, but the good news is you can turn that into a very good thing.  I'll tell you why in a bit.  Welcome to my training.  I don't know how far you've read or what, if any, trainings you've listened to of mine so I will begin with this:
I am not one to "sugar coat" things.  I will not tell you what you want to hear, I will tell you what you need to hear.  If that's too blatant and too much for you right now, don't read the rest of this answer.
OK…here it is….
First of all, you found me on facebook.  That is a very good sign.  Do you know what that tells me?  It tells me that what I'm doing is working!!  Now…do you want to learn from someone who is just making money teaching or from someone who is actually doing the things they are teaching?  Too many times people teach others to do things they are not willing to do themselves.  Why?  I do not know what the motivation is for that.  Maybe if they can keep you from having success, they think you will keep coming back to spend more money with them, I don't know.  In reality, the exact opposite is true.
Let's move on…
Going to groups where other networkers are and posting all of the great things about your company is actually the WORST way to do business on facebook.  Let's look at this logically.  These groups are filled with other network marketers.  They already have a company.   They are struggling just like you are.  They have heard everything you are saying before.  Heck…they've probably said it too.  They are not your target market.  So, you are spending time giving the wrong information to the wrong people.  There aren't many other ways than bad that could turn out.
You talk about sending emails to other facebook members.  You say "I wasn't spamming, I was introducing myself and my business."  Did these people ASK to hear about you and your business?  I don't think so.  Any time you send any kind of private message (fb PM, fb email, regular email, etc…) that is unsolicited (not asked for) it is considered SPAM.  You could be legitimately offering people $100 for reading your email and if the recipient didn't ask for you to email them, it's SPAM.  So, yes…you were spamming them.
It's good that you are willing to invest in yourself and get the training you need.  I did take a look at your facebook profile and I can tell you that it is not set up properly to attract the right people.   The first thing I always recommend that you have a smiling photo of YOU as your profile photo and that you use a cover photo with a clear, concise, "About Me" statement that tells the person looking at it who you are and what you do.  This should be short and clear.  Read my post from yesterday about using facebook to market your business.  It's all about being SOCIAL on SOCIAL spaces.  Attraction marketing.  That's what works, not "go yell and scream until people block me" which is what is being taught by many "trainers".
Bottom line…You will need to learn how to properly use facebook to market your business.  I suggest you find a coach who is currently working on facebook and having success doing it.  Learn from them.  Don't waste your money on any other training.  Get the proper training now while you still have an income and you can learn how to be making money before you get into the spot where you have nothing and are so desperate that nothing works.
Good luck!!
Roxanne