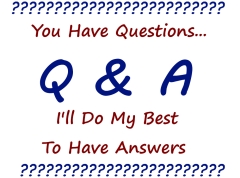 I received this question in my email box the other day from a reader.  He gave me permission to answer the question here on my blog, but wanted to remain anonymous.
I am going to try to make this a new blog segment so if you have questions pertaining to your business, feel free to ask them in the comments or send me an email.  The email me link is over on the right side of the blog ==>

Hi Roxanne,

I joined my mlm company in 2008.  I watched a presentation that said I could fire my boss and basically told me that I would be making money in no time.  I never heard of mlm or network marketing before and was sucked in by the video and my sponsors excitment.  I joined and started talking to everyone I know about the products and business.  I signed up three people in two months.  The up front money was ok, but then when the next month came around, they had excuses why they couldn't place another order.   Money, they already had too much product, etc..  That was like a kick in the pants because I had quit my job in month two when people were joining and I was starting to make some money.  After that, I signed up a person here or there and some would stick around for a few months, others were gone month 2.  It just seemed like everyone around me was building but I couldn't.  I went to all of the company calls and team calls.  The team calls had a thing called a 30 day cleanse where you clear your mind and life of everything negative and just focus on you.  I learned a lot during that time, but that wasn't making me any money.  By the end of the 30 days, things were so bad that I had to go back to work or my wife was going to divorce me.  That was in 2009.   From 2009 until now, I've been working a job 40 hours a week.  My commute is a half hour each way and lunch is an hour so I'm really gone from home 10 hours a day.  That doesn't leave much time for building a business.  I really want to make this work, but I don't know how.  I don't have the money to spend on coaching right now.  I'm still buying product every month because I can't get the small commission check that I do get each month without doing that.  Is there anything you can do to help me?

Anonymous
Hi Anonymous,
I can definitely feel your pain in your email.  Unfortunately, your story is all too common among network marketers and other entrepreneurs.
Normally the first thing I would do is recommend a Breakthrough Session to help get your business up and running properly.  However, in this case, I would like to answer your question here on my blog first because it is a story that so many people are smack dab in the middle of.
First of all, I'm not a fan of "sign up today and fire your boss".   When we bring people into the business based on hype, we have to find a way to keep them hyped up continuously in order for them to continue to build.   It is much better if we educate people before we bring them into the business.  Let them know that this is a real business and it takes real work.  It's not a "get rich quick" scam.  It is a business and should be treated as such.   You wouldn't go out, buy a Burger King franchise, rent a building, hang up a sign and expect to be making enough money to retire next month or even next year.  Every business has a learning curve…a time when you are making little to no money while you are learning the proper way to work it.  In my case, and in the case of most network marketers, the learning curve is "on the job" and most go years with no income while they are doing the whole "trial and error" thing to see what works and what doesn't.  This is especially true if our sponsor is new as well.
I'm not saying don't bring anyone in until you've spent a few years perfecting your approach.  I'm saying, you have a couple choices, as does your new business partner.  Those choices are:
1.  Invest the time to learn on your own through trial and error

or
2.  Invest a few dollars into learning from someone who has been through it
After you learn how to build your business by choosing one of the two options above, you then have to find at least an hour a day to work your business.  More time = quicker return on investment of time.
We are all given the same 24 hours in every day.  No one gets less.  No one gets more.  24 hours every single day of our life.  You spend 10 hours/day working & commuting.  Let's say it takes you 1 hour to get ready for work each day.  Then you come home and let's say you have 2 hours to decompress and eat dinner.   If you are a typical person, you get less than 8 hours a night sleep, but we'll deduct 8 hours just to be on the safe side.  That leaves 3 out of 24 hours.  Now, let's give you 2 of those hours to devote specifically to family time (this is in addition to meal time).  That still leaves you with 1 hour per week day to work on your business.
Now, let's move to weekends.  You have a full 48 hours on the weekend.  Don't jump in here and say "Well…this is MY time."  You need to figure out if you are building a serious business or if you want a hobby that you can fit into your free time.   If you are building a business, you may need to make a few sacrifices for a while.  Just like if you had your own franchise.  You wouldn't tell your employees "Don't bother me with work stuff on the weekend.  That's MY time".  So…let's get back to the 48 hours every weekend.  You sleep 8 hours/day and let's say you spend 4 hours/day doing yardwork, housework, etc…  and you spend 2 hours/day with your family.  That still leaves TEN FULL HOURS PER DAY on the weekend that you can invest into your business.
If you learn what to focus your time on during that time, you can realistically expect to have your income see a huge increase within just a few short months.
WHAT?  A few months?  Why not a few weeks?
Any method of prospecting that is worth doing takes time.  Remember…we aren't going to "hype people into the business" we are going to build relationships and educate them so they are around for the long haul.
You say you don't have the money to spend on coaching right now, but you really can't afford to NOT get help and move your business forward.  I challenge you to find any success story out there who made it without a coach.  Without ever getting help from someone.  Find someone who did all on their own with no one.  If you do find that person, they will be very few and very far between.  The majority of successful people in the world have had a coach.  They have had someone to work with them and help them move forward.
I'm not saying this to talk you into coaching with me.  Choosing a coach is a very important endeavor.  Just like entering a network marketing business…do not invest in coaching based on hype.  Go read what coaches are saying on their blogs.  Check out every piece of free information they have.  See if their teaching style resonates with you.  THEN, only after you find someone whose coaching style you are comfortable with, ask for a consultation to see how they can help you.  Some will do this free, but most will charge you a small fee for it that will be applied to the coaching investment should you choose to move forward with them.
I wish you the best of luck!!  Please keep me posted on your progress!!
Coach Roxanne